KUNSTBERATUNG

UNTERNEHMEN

/ INSTITUTIONEN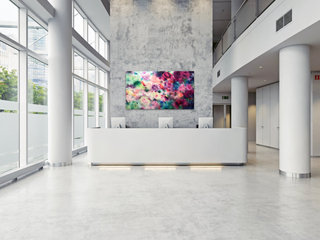 Öffnen Sie der Kunst Ihre Türen
Studien belegen, dass der Einsatz von Kunst in Unternehmen und Institutionen, basierend auf deren Kultur, Strategie, Politik und Architektur, gleich auf verschiedenen Ebenen einen Mehrwert bietet. Dazu gehört auch der Aspekt der gesellschaftlichen Verantwortung, die mit der Förderung und Vermittlung von Kunst einhergeht.
Und so, vor allem langfristig, nachhaltig Wettbewerbsvorteile sichert.
Mein Beratungsangebot umfasst das gesamte Spektrum, beginnend beim Aufbau und der Pflege von Kunstsammlungen bis hin zu individualisierten Kunst – am- Bau – Projekten und exklusiven Auftragsarbeiten. Die Kunst im Sekundärmarkt ist dabei epochenübergreifend.
Maßgeschneiderte Kunstberatung
Das jeweils für Sie individuell gestaltete, zeitgenössische Portfolio bietet Ihnen eine Auswahl international etablierter Künstler. Dabei lege ich großen Wert auf die Förderung von und Zusammenarbeit mit neuen Talenten. Auch das Nachhaltigkeits-Engagement Ihres Unternehmens kann sich in Ihrer Kunstsammlung und den ausgewählten Arbeiten widerspiegeln: und so zu einem neuen Bewusstsein Ihrer Mitarbeiter und Kunden führen. Ergänzend dazu biete ich Ihnen diverse Workshops und vielfältige Aktivitäten an, die Sie in Ihre Marketingmaßnahmen integrieren können.
Mein detailliertes Angebot für Sie als Unternehmen und Institution
Beratung, Akquisition und Handling von An- und Verkäufen (Primär- und Sekundärkunstmarkt)
Kunstangebote aus den Bereichen Malerei, Fotografie, Druckgraphik, Skulpturen sowie Wandobjekte- und Installationen
Kunst- am-Bau in allen Facetten (Kunst als Bodenbelag usw.)
Kunst aus dem Nachhaltigkeits- und Upcycling-Bereich
Idee und Realisation von auf die Unternehmenskultur angepassten Arbeiten (auch im öffentlichen und gewerblichen Raum)
Aufbau, Hängung und Installation von Kunstwerken
Betreuung von Kunstsammlungen, inklusive der Inventarisierung
Schätzungen des Wertes von Kunstwerken und -Sammlungen
Konsultationen zu Kunstinvestitionen
Beratung und Handling von Kunsttransporten
Fachspezifisches Marketing, inklusive PR, Imagepflege und Kommunikation (intern & extern)
Individuelle Events, abgestimmt auf Ihr Kunst-Engagement
Nutzung meines internationalen Netzwerkes und weltweiter Partner
___
ART

CONSULTING COMPANIES

/ INSTITUTIONS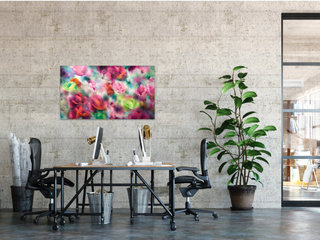 Open your doors to art
Studies show that introducing art in companies and institutions can add value on several levels at once depending on the culture, strategy, policy, and architecture. This also includes the aspect of social responsibility that goes hand in hand with the promotion and mediation of art.
This ensures sustainable competitive advantages.
My consulting services cover the entire spectrum – from the development and maintenance of art collections to individualised art-on-building projects and exclusive commissioned works. Art in the secondary market spans all epochs.
Tailor-made art consultancy
The contemporary portfolio, individually designed for you, offers you a selection of internationally established artists. I attach great importance to promoting and collaborating with new talents. Your company's commitment to sustainability can also be reflected in your art collection, thereby leading to a new awareness among your employees and clients. I also offer various workshops and activities that you can integrate into your marketing strategy.
My detailed offer for you as a company and institution
Consultation, acquisition, and the handling of purchases and sales (primary and secondary art market)
Art offerings from the fields of painting, photography, printmaking, and sculpture as well as wall objects and installations
Art-on-building in all its facets (e.g. art as flooring)
Art from the sustainability and upcycling sector
Conception and realisation of works adapted to the respective corporate culture (also in public and commercial spaces)
Construction, hanging, and installation of artworks
Curation of art collections
Appraisal of artworks and collections
Consultations on art investments
Consultation on the handling and transport of art
Subject-specific marketing, including PR, image cultivation, and communication (internal and external)
Individual events tailored to your commitment to art
Use of my international network and worldwide partners
ART MEDIATION IN COMPANIES AND INSTITUTIONS
Discovering and understanding art:Communication of art of the International Art Bridge
Conveying the joy of art to different target groups, broadening perspectives, and initiating reflections is much more than just a matter of course for me. From working with companies and institutions, I know that both employees and clients are stimulated, creativity and corporate loyalty are fostered, and valuable synergy effects are created.
Within the framework of my art mediation, I also offer you tailor-made corporate and art events that increase your added value.
My detailed offer for you as a company and institution
Employee and customer workshops to increase innovation, motivation, and retention
Events, congresses, artist talks, lectures, panel discussions, and studio visits
Development and realisation of exhibition projects in the company (temporary or permanent)
Curation and handling of art projects, vernissages, and finissages
Communication of art and rental for companies and institutions